Punches and Rhymes. Author's Evening with Yuri Krasavin
Date:
12 Oct 2023, 20:00–21:00
A retrospective concert reflecting the generic diversity of Yuri Krasavin's work over the years.
T
Yuri Krasavin (b. 1953)
Concert No. 2
For piano and orchestra (1999)
"Escher Variations"
For chamber ensemble (2022, commissioned by GES-2 House of Culture)
Scardanelli
For nine instruments (1982)
"Werther"
Sentimental music for piano (1983)
"Novgorod Concert"
For piano four hands and strings (2002)
In October of 2023, Yuri Krasavin will celebrate his seventieth birthday. GES-2 House of Culture will mark this important date for one of the leading figures in new Russian music with a concert-retrospective, the programme of which will include works from different periods and genres in Krasavin's oeuvre, showcasing the composer's varied work.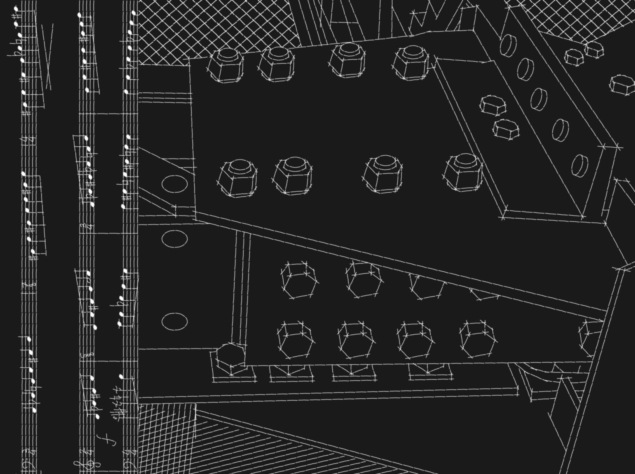 Moscow Contemporary Music Ensemble
Fedor Lednev conductor
Nastasya Khrushcheva piano
Yaroslav Kovalenko, Alexey Bolovlyonkov piano
Illustration: Masha Bazilevskaya
Yuri Krasavin belongs to the generation of Leningrad composers who came onto the musical scene in the 1970s. Along with Leonid Desyatnikov and Anatoly Korolyov, Krasavin took up a new artistic method, which Igor Stravinsky once described as "refitting old ships"—work with generic models of the past, the dissolution of another's thematic material or one's own dissolution in it. Krasavin's rhetoric is not the 'creation of worlds' beloved by composers since the time of Mahler, nor Prokofiev's 'questions thrown at eternity' but rather 'I love to tinker with the material of others.'
In Krasavin's works, the creation of worlds is replaced by the careful work of microscopes and pincers: regardless of whether they have been written for a small chamber ensemble or a large orchestra, Krasavin's compositions are distinguished by their craftsman-like attention to detail and calligraphic instrumental writing. Instead of a strict separation of the comic and the lofty, we find in Krasavin a fusion of the ironic and the sincere and of the humorous and the serious that resists analysis. Krasavin knows well how the public loves to feel the joy of recognition, yet each time he lulls his listeners with commonplaces of past music, it is to stun and awaken them the very next moment.
Krasavin is fond of unexpected blows to the chest, he is a trickster-figure, an eccentric, and a sharp wit—he always has a baton or circus whip at the ready. Each of Krasavin's 'coup de musiques' is usually balanced by a poetic digression, by a moment of blurring of reality and entry into the space of the surreal. This system of blows and blurring proves meaningful in Krasavin's case—and it goes without saying that Krasavin's blows to the chest are really special instances of tenderness."
Bogdan Korolek, project co-curator
Yuri Krasavin (b. 1953, Leningrad) is a composer. Born in Kharkiv, Krasavin studied at the Krasnodar College of Music, then at the Leningrad Rimsky-Korsakov College of Music (class of Galina Ustvolskaya).He is a graduate of the Leningrad Conservatory (class of Alexander Mnatsakanyan). Among Krasavin's major works are the ballets Magrittomania (1999, San Francisco Opera; 2004, Bolshoi Theatre) and Dancemania (2022, Bolshoi Theatre), the Seven Stops in Southeast Asia concerto for violin, cello and orchestra (2003, Berlin), musical scores (Quiet Don by Sergei Ursulyak; Tsar by Pavel Lungin, Brest Fortress by Alexander Kott, among others), chamber music, and works for piano. Krasavin has been awarded the Prize of the Government of the Russian Federation (2020, for the ballet Paquita at the Ural Opera Ballet Theatre). The Bolshoi Theatre's playbill for the 2023/2024 season includes world premieres of two ballets by Krasavin: The Queen of Spades in December 2023, a "recomposition" of Tchaikovsky's canonical opera, and, in July 2024, The Tempest, based on the play William Shakespeare.
Fedor Lednev (b. 1971, Minsk) is a conductor. He is a graduate of the Saint Petersburg Conservatory in choral conducting (1995) and in opera and symphony conducting (1998). Since 1995 he has taught at the Rimsky-Korsakov Saint Petersburg Musical College. As a guest conductor, Lednev has collaborated with leading Russian orchestras, including the E. F. Svetlanov State Orchestra, the Russian National Orchestra, the Russian National Youth Symphony Orchestra, the musicAeterna choir and orchestra. Since 2019, Lednev has been the conductor of musicAeterna.
Nastasya Khrushcheva (b. 1987, Leningrad) is a composer, pianist, and musicologist. She is a graduate (2010) and postgraduate (2013) of the Saint Petersburg Conservatory (composition class of Sergei Slonimsky). Khrushcheva is a member of the Union of Composers and a PhD in art criticism. She is the author of the music to over twenty-five dramatic performances, including productions by Valery Fokin, Andrey Moguchy, and Viktor Ryzhakov. Since 2014, Khrushcheva has been a member of the independent True Theater (directed by Alexander Artyomov), where she is a co-author of texts as well as a performer. She was a winner of the Pythian Games composing competition in 2014, and of the Saint Petersburg Theatre Award in 2015 for Breakthrough. Khrushcheva is the author of the book Metamodern in and around music, which won the Andrei Bely Prize in the "Humanitarian Research" category in 2021.
Bogdan Korolek (b. 1993, Omsk) is a curator and music and theatre critic. He is assistant artistic director of the "Ural Opera Ballet" troupe. He is a graduate of the Krasnoyarsk Choreographic School (class of Ivan Karnaukhov) and holds a bachelor's degree in art and humanities from the Vaganova Academy of Russian Ballet as well as a master's degree in music criticism from Saint Petersburg State University. From 2010–2015, Korolek was an artist of the Opera and Ballet Theatre of the Saint Petersburg Conservatory. Since August 2016, Korolek has been an assistant to the head of the Ural Opera Ballet Theatre and editor of its publications. Korolek is the scriptwriter of Divertissement of the King at the Mariinsky Theater (choreographer Maxim Petrov), Order of the King, and The Little Humpbacked Horse at the Ural Opera Ballet (together with choreographer Vyacheslav Samodurov), and Guide to Ballet at the Perm Opera and Ballet Theatre (choreographer Anton Pimonov).
Bogdan Korolek, Dmitry Renansky
Ekaterina Arkhipova, Marina Badudina, Yana Romashkina
{"width":963,"column_width":89,"columns_n":9,"gutter":20,"line":10}
{"mode":"page","transition_type":"slide","transition_direction":"horizontal","transition_look":"belt","slides_form":{}}
{"css":".editor {font-family: Diagramatika Text; font-size: 20px; font-weight: 400; line-height: 20px;}"}